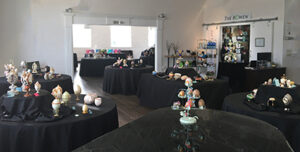 Visitors were treated to an extra special treat as we welcomed back the Eggstraordinary talents of members of the International Egg Art Guild.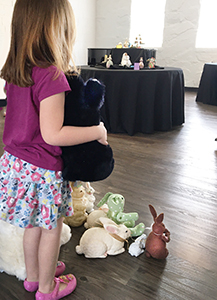 We even had an exciting visit by the Easter Bunny Guild (shown with guest Gracie Mae) who were excited to see such a beautiful month-long display thanks to members of the International Egg Art Guild.
This amazing exhibition featured extraordinarily talented "eggers" unique and creative abilities of this extreme art form. On display was the art of Carole Kjellsen of Cumming, GA, with her Fabrege eggs, and Jennifer Stevens of NC with her minute creations, as well as eggers Debbie Poster of Colorado, Pat Rennick and Debbie Schneider both of Washington, Marcia Robbins of Arizona and Joan Huff.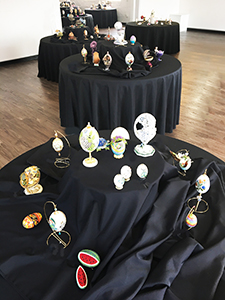 Presentation: Jennifer Stevens of North Carolina and Debbie Poster of Colorado joined us for two days to give us insight into this incredible hobby. They also had wonderful ornaments and gifts for sale just in time for Easter!