Thank you to everyone who joined us for our very special Bowen Family Mardi Gras celebration Saturday, February 18. This community wide event featured plenty of fun and food for everyone! We had over 65 attendees – short and tall who enjoyed snacks and refreshments. And Jennifer Patterson even brought us authentic King Cakes straight from New Orleans – it was awesome. The craft tables, photo op, snacks and decorations made it all magical.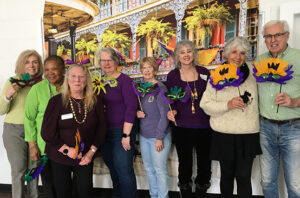 Thank you to all our wonderful Volunteers who helped put this delightful event together and made it fun and exciting for the youngsters. Everyone cut & glued, weave and pressed, set up and served, and finally, cleaned up….
Pictured in front of our photo op provided by Amanda & Matt Meyers is Ginny Greenwood, Margaret Looney, Janet Spaulding, Theresa Bradley, Sue Benitez, Chris Sharp, Virginia Matteson and Paul! You were all wonderful.