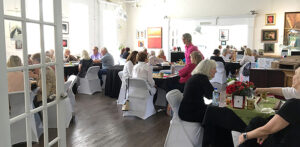 On June 10, the Bowen Center for the Arts hosted 55 guests at a delightful luncheon and afternoon of card games. This event was brought through the efforts of Board Member Diane Houser. Volunteers served a wonderful lunch catered by Brooklyn Joe's and deserts provided by Board Member Tina Sant. Floral arrangements were provided by Board Member Tracey Smith of Rachel Remington Design.
The card party group was bowled over…had fun, ate yummy food and were grateful to greet old friends for the first time in over a year. The overall response by party-goers was joyous, with new faces saying they'll be back for more.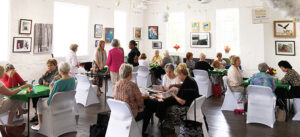 A special thank you goes to our Bowen Board Members for making this event special – Diane Houser, Ann Braswell, Shirley Hawkins, Margaret Looney, Tina Sant, Linda Sherbert & Tracey Smith. Each year the Bowen Board Members assist with events to help fundraising efforts for this wonderful non-profit. We are grateful to have great Board Members who help this community art center continue to thrive and provide North Georgia with the best and most exciting exhibits, classes and events for everyone.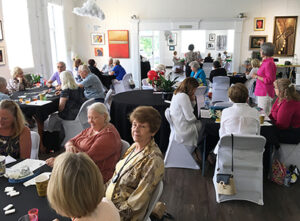 This event was held at The Bowen Center for the Arts which is a beautifully restored 1930's historical buildinglocated just North of Dawsonville's Historic Square at 334 Highway 9 North. Admission is free. Normal hoursare Tuesday to Friday 10AM to 4PM, Saturday Noon to 4PM.