The Bowen Center for the Arts hosted the The First Virginia Avery Memorial "Reflections II" Juried Art Exhibition which was brought to us by the Art Committee of the Atlanta Branch of the The National League of American Pen Women. It was open to all Georgia Women Artists and exhibit dates were August 1~21, 2020.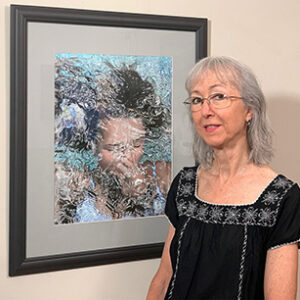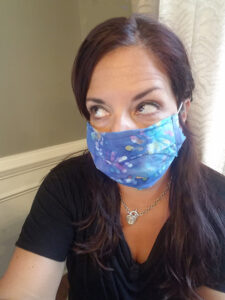 This year's Judge was Amanda Shelnutt (shown) of Cumming, Georgia, and here are her show comments:  The work is SO very well done this year. It was an honor to be asked to judge! 10 months ago I started my own business consulting in the area of nonprofits (particularly arts nonprofits), public art, promotional and press for artists, and grant writing. It is great to be approached by the Pen Women having worked with this group as the art center liaison for the show in the past, it was fun being able to make the selection.
Best in Show  Debra Yaun, (shown) colored pencil Summer Immersion- I am always amazed by the work of this artist. Just when I think I know all she can do, she blows me away. From across the room, the water, the face, all looked so real, up close, the abstraction was just as stunning. To have a mind like this that can break down what you see into basic components, complex yet beautiful is simply… masterful.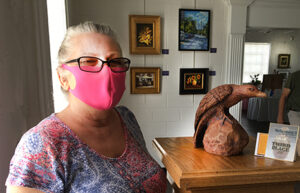 3D  First Place: Sheryl Holstein, pottery Golden Ammonite Lidded Jar – This is a flawless execution in the medium. The size,glaze, balance and proportion all on point. Second Place: Patty Weisman, clay, wood, metal The Juggler- This made me smile. I love to see artists pushing reality, melding whimsy with skill and humor. Third Place: Julie Nunn, (shown) clay Eagle- This piece was very well done- sculpture can be overdone- but this was elegantly crafted. Honorable Mention: Jennifer Diaz, porcelain Trace a Path- I have so many questions, how did this come to be? I just love all the little details and got lost looking at organic shapes. I really wanted to touch it (but I didn't.)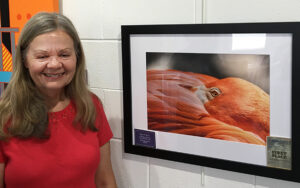 Photo   First Place: Susan Perry, (shown) Eye 2 Eye- I love the unusual composition on this. The colors are great. And I love flamingos. Second Place: Jennifer McKinnon Richman, City Jewels No. 26…- This is such a stunning piece. I love photographs that are taken to abstraction, the printing on metal was a solid choice. Third Place: Michele DeBlois, (shown) On Golden Pond- This is a love this piece- the reflection as interesting as what is being reflected. Excellent execution and finishing/framing. Honorable Mention: Harriet Dye, I See You- I love black and white photography, the expression on this little guy's face is perfect.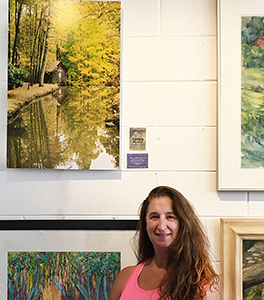 Art  The portraiture was very strong this year. Because of the category system and the sheer number of entries in this particular category, I opted to select many honorable mentions to balance out the awards.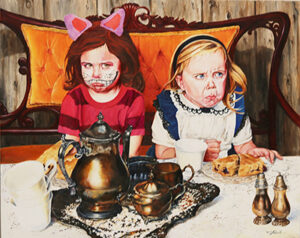 First Place: Deborah Tidwell, oil Tea Party (shown) After reviewing the entries, I was very excited to see this work in person. The little girls' faces are priceless! Reminds me of an expression I made recently when I found out my kids weren't going back to school just yet.  Second Place: Judy Carr, pastel Beach Time- I love pastels and appreciate the skill level required to create something like this. Beautiful balance, composition, color, painterly strokes-yet exquisite realism. What a cutie pie!  Just lovely. Third Place: Gail Watson, water batik Banks of the Okefenokee- Another attention grabber from across the room. I love the fluidity, vibrancy and transparency of watercolor- and am intrigued by the batik medium. You can get lost in this piece for a minute, and I did. Honorable Mentions to: Deborah Tidwell, oil Babs-  The portraiture and figurative in this show is particularly strong this year. I feel I know this person, and I don't know if it is just because it is so flawlessly executed or if we've actually met! Gail Wegodsky, (shown) oil Glass Elephant.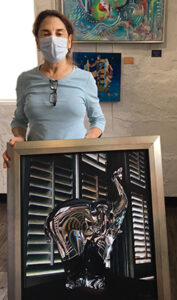 This is complex and stunning, the detail is flawless. It grabs your attention from across the room- it was one of the first pieces I saw when I entered the gallery.  Junko Ono Rothwell, pastel Woman Standing – I just love her. The loose application of the pastel, the pose of the subject, excellent work. Mikki Root Dillon pastel Blue Heron Sunrise- I love the warm glow on this piece- the limited color palette is so perfect. I could almost smell fall. Barbara Edwards, watercolor On the Rocks- What lovely birds! I appreciate the balance of abstraction with the birds included. The color palette, the composition, all worked very well here.
 CONGRATULATIONS ALL!  Visitors safely viewed this wonderful and huge display at The Bowen Center for the Arts with it's wide open space and tremendous lighting. Accepted works include 82 Art & Photography and 24 3D works. There were 173 entries from 67 talented Georgia Women artists from all corners of Georgia. Participants were:
Alpharetta:Patricia Hahn
Atlanta:Jennifer Diaz, Harriet Dye, Kathy Rennell Forbes, Jennifer McKinnon Richman, Linda Mitchell, Kathleen Summers
Bishop: Janet Rodekohr
Brookhaven: Junko Ono Rothwell
Buford: Debra K. Yaun
Canton: Sally Evans, Julie Nunn, Sandy Ruark, Nadine Turner, Denise Van Balen, Patty F. Weisman
Columbus: Gloria Sampson
Dahlonega:  Jan Fambrough, Joyce Fox
Dallas:  Jacquelyn Carcioppolo
Dawsonville: Allison Abraham-Kirby, Michele DeBlois, Michelle Wittmer Grabowski, Dru Stowers
Decatur:  Judy Cutchins, Cynthia Frigon, Joan Christopher-Quillen
Douglasville:  Stella Spyrou
Ellijay: Sheryl Holstein
Fayetteville: Susan Perry
Gainesville:  Ann Alexander, Sharon Farkas, Constance Gerdts, Jill Haack (with Sheri Hooper), Amanda Lovett, Krys Pettit, Betty Smith, Cynthia Todd
Hapeville: Marla Puziss
Helen: Judy Bynum George
Hiawassee: Jackie Su West
Jasper: Kat Alikhan, Jacqueline Allison, Cindy Bonner, Gidge Dady, Lisa Schnellinger
Lexington: Mary Ann Cox
Lilburn: Mikki Root Dillon
Marietta: Jane Carroll, Ann Wallin, Donna Woodward
Midland: Amy Patterson
Roswell: Judy Carr
Sandy Springs: Joyce Ryan, Gail Wegodsky
Sharpsburg: Karen Cox
Stone Mountain:  Erin Bailey, Mozelle Funderburk, Linda Hanks, Sherry Needle
Sugar Hill: Summer Lowe
Suwanee:  Arlaine Morrison, Anita Stewart
Toccoa: Gail Watson
Waleska: Phoebe A. Maze
Woodstock: Deborah Tidwell