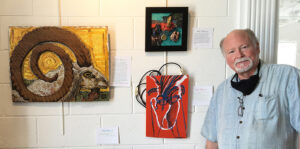 SAVE THE EARTH  Don't toss it – make art!     – Sara Lindkrantz, Jasper, Georgia  Visit the Bowen to safely view this fabulous art show featuring 14 artists who pondered, designed, glued, cut, sawed, wired & melted recycled items into ART! This show  featured an array of amazing recycled goods. Our Judge was Don Dougan from Atlanta who originally hails from Portland, Oregon. He obtained his BFA at Atlanta College of Art and MFA at Georgia State University where he taught from 1995 to 2019. He currently is the Gallery Director for GSU Perimeter College. Don choose seven outstanding works, and following are his comments. He is pictured with three of the winners below.
I found the exhibit fascinating — to see works all done within the theme of recycled materials was a joy. As an educator (I taught 3D Design classes for well over twenty years) I gave my students two or three 'found object' design projects every semester to help get them to see the aesthetic potential inherent in all materials — not just the materials one finds in the art supply store.
As a sculptor who often uses found objects in my own work, I have discovered that the unique nature of each object used brings an essential element to the design. The found object brings with it a story — a history — that is evidenced by the wear and tear of time on that object, as well as the original purpose/formation of that object before I selected it to be part of an artwork. As a found-object artist I find that it is crucial that I recognize the past nature of the object and incorporate that into the work.
My duty as exhibit juror is to point out the works where I find the artists that both recognized the stories inherent in the found objects and then used their senses of craft and design to amplify or enhance it within their own aesthetic.
Best in Show
Veronique Ivanovic's minimalistic portrait (red piece pictured bottom right) on the scrap of wood uses the glasses and the electrical cord to portray a character with quirky humor. First Place Allison Abraham-Kirby (ram head & Allison & Family shown) used the piece of worn heart pine with the original saw marks to echo the horns of a ram in a powerful manner. Both of Second Place Connie Gerdts' works (one shown top right) show a sensitivity to form and composition overlaid upon the rich collages presented in a formal manner. Third Place Karin Schwartzer's recycled glass (shown) in the form of symmetrical flowers are presented contrasting with the asymmetrical natural forms of driftwood. These artists all recognized the integral natures of their specific found materials and incorporated them into their designs in a striking manner.
The three artists with Honorable Mentions have also recognized the inherent natures of their found materials: Margaret Looney's three handbags (shown) constructed from re-used plastic bags are exquisitely fashioned and stand as a testament to craft (my personal favorite is the red and white patterned). Claudia Campbell used the sticks and twigs twined with other bijou materials to present a design of private talismans (childhood memories of an old cigar box filled with collected 'treasures'). The tall glass figures of Pamela Mayer with old TV parts explore the characters portrayed with a zany or madcap humor.  ~ Don Dougan, July – 2020
Our additional participating artists were Lisa Schnellinger, Jim Fambrough, Claudia Campbell, Jane Broaddus, Cindy Bonner, Marissa Magana & Lauren Hockaday.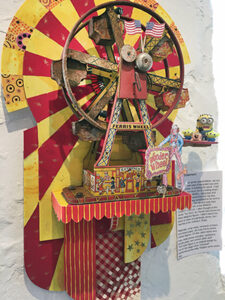 This ECO juried art show is the inspiration of a fabulous artist, Sara Lindkrantz of Jasper, who encouraged others to help Mother Earth and give new life to recyclables and spark interest on how to use waste materials! Sara saw the value and beauty in everything. The sale of Sara's works and The Bowen provided prize funds for this display.