Date/Time
Date(s) - 09/24/2021 - 10/20/2021
10:00 am - 4:00 pm
Location
The Bowen Center for the Arts
Categories
IT'S HERE! The 2021 Quilt Show produced by the members of the Heart in Hand Quilt Guild will feature over 70 quilts hanging from the rafters of the Bowen.

Come vote on your favorite

if you can choose just one… Everyone is invited to join us for the opening reception Saturday, September 25 from 2:00~4:00pm. Snacks and refreshments will be served.
This year's exhibit theme is COLD DAYS – WARM HEARTS. Their Challenge quilts WINTER WONDERLAND will be spotlighted as members show their ingenuity to produce a totally unique quilt to fit that theme. It was hard for them to focus on winter quilts when the heat index rose over 105º during the summer.
This Guild exhibit is a destination and we're excited to once again host such a favorite and enjoyable display. Each year, visitors walk in the front doors and pause to catch their breath. After the initial shock of the volume and beauty of fiber art before them, they comment how far they traveled just to view this event. Entranced, they browse for hours with friends and family. They share fond memories with joy and laughter, and leave with a smile on their face. Quilt docents will be on hand to take you on a tour of styles, techniques and historical significance.
The Bowen also enjoys "bragging rights" in hosting the Guilds' meetings and workshops, and is always grateful for their beautiful exhibition each year. Guild members learn techniques, attend show-and-tell, get discounted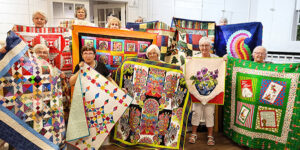 workshops and retreats AND enjoy the camaraderie of this philanthropic and entertaining group.
And we have a RAFFLE QUILT that the Quilt Guild produces every year to benefit the Bowen. Tickets are $1.00 or 6 or $5.00 and can be purchased at the Bowen. The drawing for the raffle will be held December 14, 2021 and you do not have to be present to win.The Bowen is a non-profit community Art Center which focuses on providing a variety of events for all of North Georgia. Help support this wonderful venue full of the arts and treasures for everyone.
WEEKDAY HOURS Tuesday to Friday are 10:00am to 4:00pm. SATURDAY HOURS are Noon to 4:00pm.  The Bowen is located just North of the Historic Dawsonville Square at 334 Highway 9 North between Lanier Technical College and Dawson County Junior High School.