Date/Time
Date(s) - 09/25/2020 - 12/12/2020
12:00 am
Location
Bowen Arts Center
Categories
A favorite holiday event has returned to the Bowen! We invite Artists to come display and sell their works in a wide open setting!  Enjoy selling during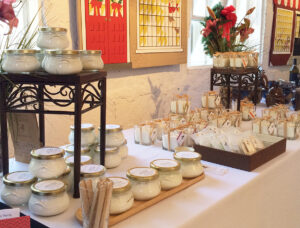 two Bowen exhibits which are featured during theses dates – the Annual Quilt Show now until October 22, and our Smallest Little Juried Art Show November 4 to December 11. Our art displays also bring many friends and family visitors who welcome the chance to finally get out to an event.
Sell during these available weekend (Friday & Saturday) dates of your choice:  October 16 &17  •  October 30 & 31  •  November 6 & 7  •  November 13 & 14  •  November 20 & 21  •  December 4 & 5
Features:

Sell your handmade arts and crafts creations INDOORS at the Bowen!
ONLY $50

per weekend (Friday,

Saturday), or 4

weeke

nds (your choice) for $175
Hours both days are between 10am-4pm, as preferred by Artist.
Bowen provides table (6 foot) if preferred.
Table may be split with another Artist with both Artists completing an Entry Form.
Products can be left Friday overnight in locked, secure facility.
Set up Thursdays from 1-4pm or Friday 9-10am, or as arranged with staff.
COVID cautions: Masks requested for attendees and Artists, Bowen will provide hand sanitizer. Tables will be set apart at safe distances.
Event heavily advertised in newspapers, online, curbside and via eBlast.

Requirements:

Handmade arts & crafts produced or created by Artist.
Entry Fee for each weekend (two days): $50 per table, cash or check payable to Bowen, PO Box 849, Dawsonville, GA 30534.
Deadline for entry fee at least one week prior to Friday reserved.
To reserve your weekend(s), call 706.216.2787 or email director@bowenarts.org (reservations limited so please reserve early).
The Bowen has final authority on eligibility and criteria.
FOR ENTRY FORM, CLICK HERE 2020 Marketplace entry2020 Marketplace entry2