Date/Time
Date(s) - 10/13/2023
6:00 pm - 7:30 pm
Location
Bowen Arts Center
Categories
Hear an amazing and rousing classical concert with Georgia Musicale Group! Listen as classical music wafts through the rafters of the Bowen with favorite selections performed by GMG members Fuling Chiang (tenor), Annette Russo (soprano), Susan Katz on cello, and Julie Woodall, Kimber Kwiatkowski and Utako Tanigawa on piano. Hear exciting and emotional works by Vivaldi, Schubert, Haydn, Dvorak, Chopin and Puccini.
This concert benefits the Bowen and the Georgia Musicale Group, a non-profit group that provides music beginner to professional members an outlet for performing, socializing and learning. For more information, go to www.mygmg.org.
TICKETS are $10 per person and children 12 and under are free. Tickets are available online below or at the door (check or cash please). Seating is limited so reserve your tickets today! When you pay via online, we will have your name listed at the door.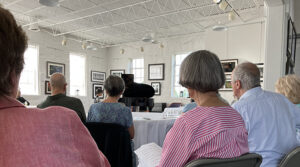 Georgia Musicale Group History  Georgia Musicale Group was incorporated in 2016 as a non-profit organization with dozens of music lovers.  In the last several years, their group has experienced rapid growth with more than one hundred performers including pianists, various instrumentalists, and vocalists.  Members come from diverse backgrounds: scientists, medical doctors, lawyers, teachers, professional musicians, etc.  Besides professional musicians, many of them played instruments when they were younger but stopped playing due to their careers. However, their love of music remained, and they discovered GMG as a vehicle to pursue their love of music again.  The experience gained by our members through participation in these musicales is a testament to the power of GMG's mission: to recognize, nurture and provide opportunities for musical growth and development in a fun and supportive environment. Now we have members from Canada, Russia, Germany, France, and UK in addition to several states in America.  We also invite professional artists from around the world.
The Bowen is located just North of the Historic Downtown Dawsonville, GA at 334 Highway 9N. This "Old Rock School" is a vintage 1936 former school building which was also used as the County canning store, mattress factory, juvenile detention, and Department of Vocational Agriculture. 
Bookings