Date/Time
Date(s) - 11/05/2021 - 12/15/2021
12:00 am
Location
The Bowen Center for the Arts
Categories
JOIN US for a wonderful "little" big art show. All medias are represented in this juried event on display during our busy Holiday Season. It features works that are perfect for gifts or a new spot on your wall or table. You can also waltz through our Festival of Trees display to really get you in Holiday Mode.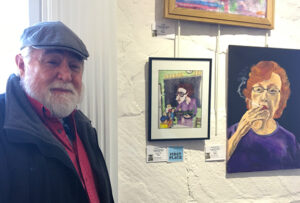 Our Judge was Mikki Root Dillon of Lilburn, Georgia. She was delighted at the honor and enjoyed reviewing this wonderful art. Her comments are listed below. Her art career spans from studying art at Ohio State University to post retired when she resumed studies in print-making, stained glass, watercolor and pastel. Her paintings are in several public and private collection throughout the U.S as well as publication. She has also won numerous national and international awards, and taught and lectured about her favorite medium pastels.
WINNERS FOR OUR SMALLEST LITTLE ART SHOW WERE:
First Place: Paul Schiemer for Teacher's Pet-Mikki comment: This illustration really grabbed me with it's technique and intricate detail for humor; wonderful composition.
Second Place: Jill Haack for Time for Tea-Mikki comment: Meticulous composition, collage technique and painting on top nicely done and presented.
Third Place: Ildiko Hyde for Autumn Road– Mikki comment: Feel like I'm walking down the Fall road and could reach out and I'm there.
Fourth Place: Nosy Horse by Sarah Smith-Mikki comment: Wonderful technique and composition; well done presentation and nicely finished work.
Honorable Mentions went to (alpha order):  Gordon Benson for Basket of Eggs; Ruth Jones for Wrightsfield Beach-South End; Virginia Matteson for After the Storm; Patrick Olmsted for Love Birds and Tree Hugger; Marla Puziss for Gypsy Violin and Oakland Cemetery Angel; Dan Rhoads for Butterfly on Cone Flower; Sarah Smith for Mourning Dove.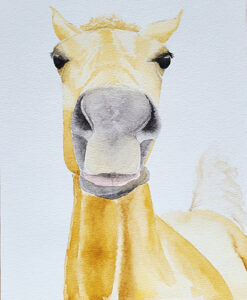 Participants this year are:  Alpharetta: Ben Hollingsworth; Cumming: Gordon Benson, Bert Grant, Ildiko Hyde, Patrick Hyde, Ruth H.Jones, Cynthia Willett ; Dahlonega: Jack Cane, Josie Daniel, Patrick Olmsted, Paul Schiemer, Jewell Walters; Dawsonville: Elizabeth Ann Dalton, Jonathan Gross, Virginia Matteson, Tom Reed, Sarah Smith; Flowery Branch: Dan Rhoads; Gainesville: Jack Anthony, Jill Haack, Cynthia C. Todd; Hapeville: Marla Puziss; Jasper: Allen Quandee.
This exhibit is free so everyone can come enjoy wonderful works of art and the Bowen dressed in holiday splendor. Hours are from Tuesday to Friday 10AM to 4PM and Saturday 12 to 4PM.  The Bowen is located between Lanier Tech and Dawson Junior High at 334 Highway 9N, Dawsonville, GA 30534. We are just north of Historic Downtown Dawsonville. [SHOW ARTISTS Pick up dates are: December 16, 17, 21 from 10am-4pm and December 18 from Noon to 4pm. Art Center is closed December 23, 2021 to January 3, 3022.]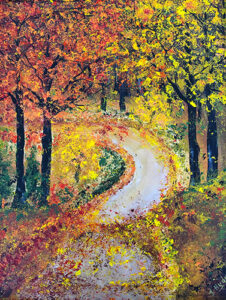 Images shown from top: Second Place Winner Jill Haack's Time for Tea, First Place Winner Paul Schiemer next to his work Teacher's Pet; Fourth Place Winner Sarah Smith's Nosy Horse; and Third Place Winner Idilko Hyde's Autumn Road.
Bookings
Bookings are closed for this event.