Date/Time
Date(s) - 10/28/2021
6:30 pm - 8:30 pm
Location
Cold Creek Farm
Categories

It's BACK! This time we're celebrating lots of things – life, art, the community, the Bowen Art Center, good times and rebirth. Keep your chin up and join us for a great evening of wine, dinner and wonderful silent auction items to collect! Everyone is invited to join us at the newly remodeled

Cold Creek Farm October 28, 2021 from 6:30-8:30PM. Enjoy a lovely dinner with friends and family, try out some new wines, compete for beautiful auction gifts – all from THE BOWEN! Sit inside or out on the back patio and decks at the gorgeous facility of Cold Creek Farm. Gentle October breezes signal the season's change which brings a special thoughtfulness to the air. Let's all laugh and soak up the beautiful fall evening.

Every year, we love to get together and entertain our special sponsors and their guests, our amazing patrons and the whole town for that matter! We've all been through some rough spots and earth is still turning so we figured LET'S HAVE A PARTY. Halloween is right around the corner and then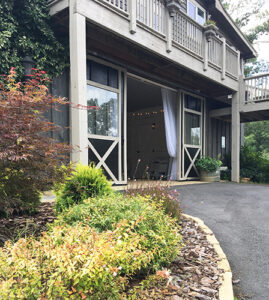 on to the seasonal fare we all love and enjoy.
Enjoy a wonderful dinner served for us by A PERFECT GATHERING which features a Beef carving station, a Pasta Station with penne and cheese tortellini, Chicken, Meatballs, Potato Bar with smashed red skin potatoes and mashed sweet potatoes with trimmings, Salad, Roasted Vegetables and Rolls.
This event is a fundraiser so we are requesting help from everyone. Your assistance is vital. The Bowen has been packed with entertainment throughout the toughest times and we need to regain our lost budget. You can donate (See our Sponsor Page for donation levels) or simply enjoy an evening with us. And just FYI, Sponsor levels above $350 include ARTFUL CORK tickets, so review the Sponsor Web Page to see what your support can bring you. It's such a great opportunity for businesses and individuals alike to help bring this wonderful community continued cultural events at the historic Bowen Center for the Arts (TWENTY YEARS AND COUNTING).
Tickets are $65 per person and includes DINNER AND DRINKS. Dress is P-A-R-T-Y to casual.
Bookings