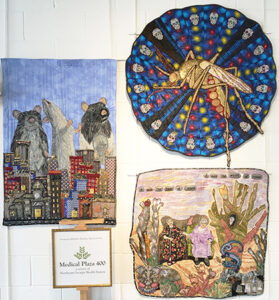 JANE BROADDUS, Dahlonega, GA. The Bowen Center for the Arts hosts its amazing Member Artists sponsored by Presenting Patron Medical Plaza 400 Northeast Georgia Health System. Currently featured is Jane B. Broaddus of Dahlonega, GA. If you can't get in to see her display at the Bowen, her works are also featured on The Bowen's website at bowenarts.org/featuredmemberartist.
Her talent for fiber creations are expressed through images and added beads, buttons and found objects. Her spontaneous and surprising collages sometimes express her odd sense of humor or remind the viewer of the transience of all things  such as haiku of the Japanese masters.   As a pre-teen, Jane learned embroidery and crochet from her grandmother, then quilting techniques which became her hobby. After using traditional patterns and techniques, she was introduced to a much broader range of artistic expression and nontraditional techniques of art quilts. Her crochet skills created fantastical animal and human figures integrating additional construction techniques and materials.
Jane has exhibited her art quilts and dolls in venues in Georgia, New York City, Florida, Kentucky, Virginia, New Jersey, England, France and South Africa. She currently has pieces in national traveling shows with Studio Art Quilt Associates and Textile Study Group of New York. Her works have been published in Quick Quilts and Quilting Arts Magazines, including a book by Katie Pasquini Masopust, Inspirations in Design for the Creative Quilter. Jane studied the sciences and has a Ph.D. in forest pathology from North Carolina State University. Her career includes Research Plant Pathologist for the USDA Forest Service and Professor of Biology for Brenau University (1988-2004). Now, as a full time artist, Jane lives and works in Dahlonega, Georgia and New York City.