The Bowen is hosting the talented GWS Member's Exhibition from August 3 to September 17, 2021.  Exhibiting artists' works was judged by watercolorist,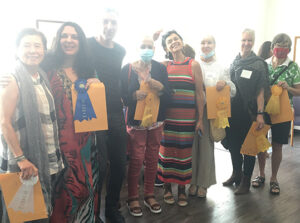 Vladislav Yeliseyev, who held a free 2-hour demonstration for everyone August 14. Vlad and Viviane presented the awards at Noon and some of the award winners are pictured here!
AWARDS PRESENTED August 14:
First Place: Diana Toma of Marietta, GA for her piece The Artist's Kitchen
Second Place: Annie Strach of Kennett Square, PA for Get Well Soon
Third Place: Place Myong Johnston of Atlanta, GA for Magnolia
Fourth Place: Rosie Coleman of Athens, GA for Just Me
Best Title: Claire Osbourne of Lakewood Ranch, FL for Being Koi

Honorable Mentions went to

Janice Matthews of Athens, GA for Lily in Three Worlds
Diane Roach Smith of Birmingham, MI for Dreaming
Sally Evans of Canton, GA for Summer Flags
Ludmilla Harrison of Acworth, GA for Magical Colors of Ghost Ranch
Zan Thompson of Conover, NC for Grounded at Point
Suzie Schultz of Atlanta for Falling Leaves
Vladislav Yeliseyev below during his free 2-hour demonstration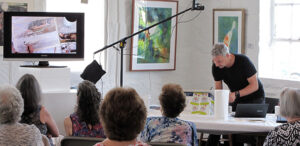 Checkout these 50 Artists who participated in this year's event:
Acworth: Ludmila Harrision
Athens, GA: Rosie Coleman, Judith DeJoy, Anna Desio, Kie Johnson, Janice Matthews, Rosemary Segreti
Atlanta, GA: Marsha Chandler, Shannon Kelly, Myong Johnston, Suzy Schultz
Bartow, FL: Ronald Malone
Birmingham, MI: Diane Roach Smith
Canton, GA: Sally Evans
Charlotte, NC: Christine Walker
Conover, NC: Zan Thompson
Dallas, GA: Jacquelyn Carcioppolo
Douglasville, GA: Marsha Chandler
Duluth, GA: Karl Everett, Kerry Everett
Jacksonville, FL: Rebecca Mentz
Jasper, GA:  Barbara Edwards
Jefferson, GA: Karen Sturm
Kennett Square: PA: Annie Strack
Lakewood Ranch, FL: Claire Osborne
Lawrenceville, GA: Angie Clark, Kathy A Kitz
Lexington, GA: Mary Ann Cox
Marianna, FL: Michele Tabor Kimbrough
Marietta, GA: Diana Toma, Sandra Webster
Marstons Mill, MA: Corinne Lilie
Mercer, TN: Mary Spellings
Milledgeville, GA: Teresa Rose, Dana Thompson
Newport, NC: Verena Murvin
Norcross, GA: Gerry Grimes, Mary Kirsch
Ringgold, GA: Durinda Cheek
Sautee Nachooche, GA: Kathy Bente
Savannah, GA: Daryl Nicholson
Suwanee, GA: Anne Bradham, Arlaine Morrison
Tallahassee, FL: Yoshiko Murdick
The Villages, FL: Nancy Dias
Toccoa, GA: Loretta Addision, Gail Watson
Trinity, FL: Suzanne Natzke
Vestavia HIlls, AL: Walt Costilow
Xenia, IL: Rebecca Krutzinger
Watkinsville, FA: Viviane VanGiesen
Don't miss this fabulous art !