Heart in Hand Quilt Guild at The Bowen 2020 AUTUMN SPARKLE Annual Quilt Exhibit
The Quilt Show exhibited rom August 28 to October 22, 2020 this year at the Bowen. This show Sparkled with amazing quilts prepared by the members of the Heart in Hand Quilt Guild. This event is always free to attend and features over 80 quilts with some for sale.
THIS YEAR'S WINNERS of the 2020 Viewer's Choice Awards were: First Place –Harriet Briscoe's Fall Festival and 2nd Place- Jackie Somerville's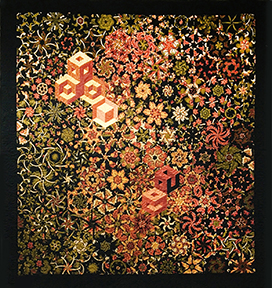 Memories of Cape Cod, and In the fall…Challenge Quilt winners were First Place- Pat Melcher's Pumpkin Pie and Joan Sievenpiper's Pumpkin Time.
This Guild exhibit is a destination. Each year, visitors walk in the front doors and pause to catch their breath. After the initial shock of the volume and beauty of fiber art before them, they comment how far they traveled just to view this event. Entranced, they browse for hours with friends and family. They share fond memories with joy and laughter, and leave with a smile on their face. 
Each year, the Bowen welcomes back the Heart in Hand Quilt Guild and their overwhelming display of hard work and talent. We hope the Quilt Guild understands what a tremendous impact their art means, and how far their efforts reach out especially in these reflective times. Members hail from Dawson, Hall, Lumpkin, Pickens and Forsyth Counties. This year's participating quilters are Barbara Venable, Brenda Perez, Carol Corner, Deborah Raptis, Harriet Briscoe, Jackie Somerville, Jeanie Whitworth, Joan Peterson, Joan Sievenpiper Julie Brinzo, Kat Tomiczek, Kay Stanley, Kim Banta, Liz Smith, Mary Kitchens, MaryBeth Tharp, Pam Haffner, Pat Melcher, Patricia Bourne, Regina Johnson, Renatta Dorman, Robin Correnti, Sandra Curle, and Sylvia LaFalce.  Thank you Quilters ~ You're the BEST!