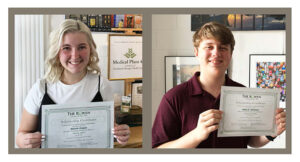 The Bowen Center for the Arts is proud to announce the winners of the Arts Scholarships for  Dawson County High School graduates. The historical Bowen, now in its 20th year of community art projects, events and exhibits, is proud to provide $500 scholarships for both Visual Arts and Language Arts.
Malorie Cramer, daughter of James and Amanda Cramer, received a $500 Scholarship award for Visual Arts. She was recognized by Art teacher, Jennifer Gray, as positive, extremely hardworking, creative, talented and intelligent. Also, that she is a leader who possess the ability to think outside the box with unique style and integrity. Her achievements include receiving the Gold Spotlight Award and Art Show Awards. Her activities include memberships in the Art Club, Beta Club, singing with the Chamber, and assisting with High School art shows.
Ethan Holtzclaw, son of Larry and Susan Holtzclaw, received a $500 Scholarship award for Language Arts. Ethan's attributes were recognized by English teacher, Lindsey Luchansky, for his dedication and incredible work ethic which lended to his intelligence, curiosity and drive to succeed with talents in both writing and acting. His activities include long-standing memberships in the Beta Club, Interact Club, International Club, Chorus, Drama and YoungLife. His has actively volunteered with Meals by Grace, Rock Creek Trunk-or-Treat, North Georgia Assisted Living, KARE for Kids, Holly Theater and various school events.
Both Dawson County students were recognized for their great academic record and accomplishments in their goal for higher education. The Bowen Directors sincerely congratulate them on their success and hard work, and wish them well on their life journeys.