The Bowen Center for the Arts is sponsoring and hosting the Juried Art Exhibition, Smallest Little Art Show (Works Under $150), featuring 73 art, 3D and photographic works by artists from all over Georgia.
Awards were given after a panel of judges reviewed these beautiful works of fine art, wood, photography, and sterling silver. Don't miss these incredible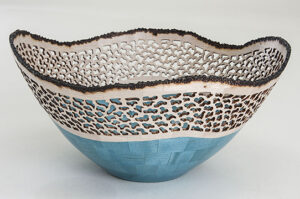 show which continues to December 11, 2020. The Bowen Gallery and Gift Shop also have new hours from Thursday to Saturday 11am to 3pm.
The Bowen judging panel awarded the following:
1st Place to Allen Quandee of Jasper for his intricate turquoise & natural wood creation Natural Edge Segmented Bowl
Honorable Mentions went to:
Godwin Kou of Alpharetta for his tiny, detailed watercolor painted on a leaf Fair Cranes
Dru Stowers of Dawsonville for her blue rushing waters plein air oil Edge of the World
Cynthia C. Todd of Gainesville for her precise and awesome photo of a cardinal in action Fandango
Lance Huthwaite of Dawsonville for his mysterious, cold photo of Alaska Resting Mists
Dietrich Hoecht of Clayton for his industrious, beautiful sterling metalwork Rubik Choker
Don't miss this stunning show of finely crafted works by artists hailing from Atlanta to Clayton. Some meld whimsy with skill, details to organics and precision in technique. The Bowen was honored to have their own business professionals review and choose from all these works. This great group are art center board members and liaisons from the past. They had fun being able to make the selections!
This show features an online announcement of the winners as well as through the Bowen eBlast & FaceBook. You can safely view this wonderful and huge display at The Bowen Center for the Arts. Come view all these accepted works from 25 talented artists from 12 cities as listed below. 
Alpharetta: Godwin Kou
Atlanta:  Veronique Ivanovic
Blairsville:

 

Deborah Larsen
Clarksville: Ken Selzer
Clayton:  Dietrich Hoecht
Cumming:

 

Bert Grant, Gary Heffelfinger
Dahlonega:  Jim Fambrough, Donna Howard
Dawsonville:  Jason Fitzpatrick, Lance Huthwaite, Margaret Looney, Tom Reed, Dru Stowers
Gainesville:  Meg Barclay, Constance Gerdts, Jill Haack, Frank McKay, Cynthia Todd
Hapeville:

 

Marla Puziss

 

Jasper: Gidge Dady, Ryan Johnson, Evalyn Mayes, Allen Quandee
Toccoa:  Gail Watson
The Bowen Center for the Arts is wide open and safe for viewing. This Center is located just North of Dawsonville's Historic Square at 334 Highway 9 North. Admission is free. Current hours are from Thursday to Saturday 11am to 3pm.