THE ART OF BUILDING & FLYING RC AIRPLANES sponsored by ETC Ellijay Telephone Company.  This exciting exhibit featured the club, North Georgia Model Aviators, who invited everyone to view their extreme hobby of model aviation.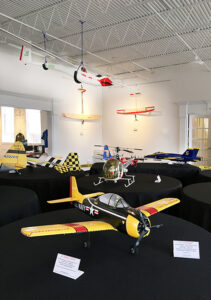 These Club members plan, build, gather and test their aerial skills at flight with precision machines that awe and excite. Large and small models of these actual machines were on display January 7 to February 20, 2021. We enjoyed this display while these beauties were stuck in their "hangers." This was a wonderful museum-quality exhibition which included presentations and demos by experts. CLICK HERE for an AMAZING CLUB VIDEO!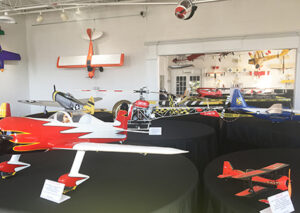 Visitors toured this display of aircraft and read descriptions about each model. Handouts and information are also provided. Presentations are also scheduled explaining the basics of aerodynamics and flight controls. Docents provided important information on the craft and piloting of RC (radio-controlled) aircraft. Retired pilots presented compelling discussions of their historical flight experiences. Check out these websites for the extraordinary hobby shops that support this club –  Atlanta Hobby and Extreme Flight.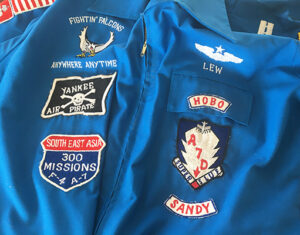 PRESENTATIONS: Our first presentation January 23, 2021 was an informal Q&A session featuring Lew Houser, USAF, retired of Dawsonville, who flew a harrowing 320 missions in Vietnam. Join in this event in our wide open and safe gallery.
Saturday, January 23 and February 13 from 11:00am to 1:00pm – Richard Ryder demonstrated his 3D printing process which printed plane parts for his B25. He also displayed his printed machines – a Saber Jet! Join in our informal event in our wide open and safe gallery.
Sponsorship for this display has been provided by enthusiasts at Ellijay Telephone Company. Thank you ETC for helping The Bowen provide exciting displays to the North Georgia community!